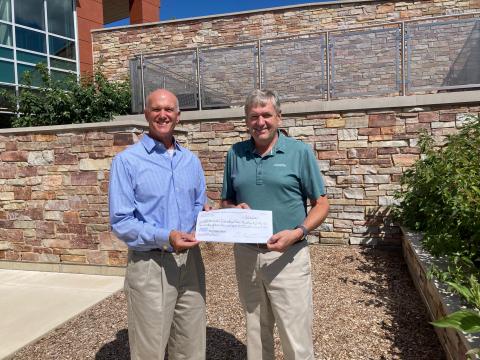 'Simply Summer…Just Add Reading', Lake Villa District Library's 2021 summer reading program, was a great success.  2,091 people participated and together, read for over 45,000 days. 
LVDL's reading programs have long benefited a charity and 2021 was no exception. Participants agreed to read (or be read to) for 20 days and for every completed reading log, the LVDL Foundation donated $1 to the Lake Villa Township Food Pantry.  This year's donation totaled $2,400.00.  
The LVDL Foundation is the public not-for-profit charitable arm of the library and was established in 2003.  The Lake Villa Township Food Pantry serves residents facing hardship and is located at 37908 N. Fairfield Road.
Lake Villa District Library enriches life in our community by connecting people with resources, services, spaces and each other.
[Photo Caption] Doug Nieman, LVDL Board & Foundation President presents Dan Venturi, Lake Villa Township Supervisor, $2,400.00 check on behalf of the library's summer reading program.