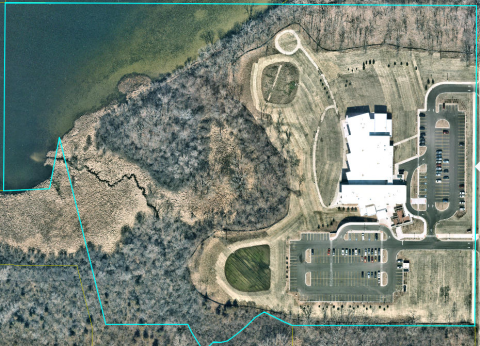 The Lake Villa District Library Board of Trustees hired Hitchcock Design Group to create a plan to utilize the library's outdoor spaces. Ten design firms submitted proposals for the project and three were chosen to give presentations to the board.  Following a competitive interview process Hitchcock was selected.  "All three firms were impressive," said library board president Doug Nieman, "it was not an easy decision."
Hitchcock will develop a Comprehensive/Master Outdoor Space Plan that will provide a detailed sketch for creating outdoor experiences to be implemented over a number of years.  According to library director Mick Jacobsen, a key component of the plan's development will be community input to explore what a library landscape experience might look like.  "To some it may be quiet outdoor rooms to birdwatch or read", said Jacobsen "to others it could be a shady spot to work, and to children it could be places to dig, build and play."
With a design portfolio of educational, recreational and civic projects across the Midwest and beyond, Hitchcock brings a wealth of experience to the library's project. To help address the particular needs of the site's natural area, wetlands, and stormwater facilities, Hey & Associates will assist as a subconsultant. Once the contract is signed, it is expected to take six to nine months to develop the plan. 
"We are excited to develop our outdoor spaces," said Jacobsen, "and to create an environment our community will enjoy for years to come."
Lake Villa District Library enriches life in our community by connecting people with resources, services, spaces and each other. 
*attached photo is an aerial view of the library's property at 140 N. Munn Road, Lindenhurst. 
For more information contact:
Nina Kenney
Head of Communications