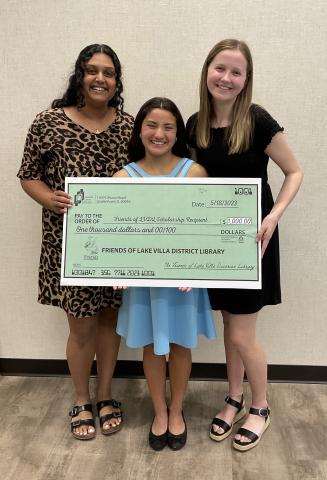 Celia Palamalayil, Isabel Ward and Emma Aleckson are the 2023 Friends of Lake Villa District Library Scholarship winners. Each will receive $1,000.00 to further their education in the upcoming school year.
The three recipients, all 2023 graduates of Grayslake North High School, were selected from a pool of 13 applicants. According to Judy Stone, member of the Friends Scholarship Committee, "Each student was quite exceptional, which made the final decision difficult."
The Friends of LVDL's Scholarship program, established in 2018, is for high school seniors who reside in Lake Villa Township and who plan to pursue a two- or four-year degree at a vocational school, community college or university. The scholarship committee works with high school guidance counselors to reach as many applicants as possible. In addition to providing academic and financial need information, the Friends require applicants to name three books that have impacted their life as well as the role books and/or libraries have played. 
Celia Palamalayil will attend University of Illinois. Isabel Ward will attend College of Lake County. Emma Aleckson will attend University of Wisconsin-Whitewater.
Lake Villa District Library enriches life in our community by connecting people with resources, services, spaces and each other.
[Photo caption: Pictured left to right: Celia Palamalayil, Isabel Ward and Emma Aleckson at the Friends of Lake Villa District Library Scholarship Award Reception.]
###

Contact:
Nina Kenney
Head of Communications