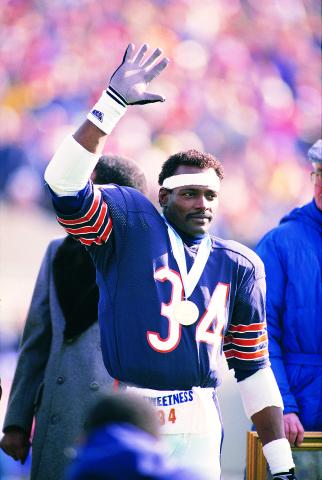 Lake Villa District Library is proud to present A Picture is Worth 1000 Yards: Sports Photography of Walter Payton, a traveling exhibition on loan from the Dunn Museum.
The exhibition celebrates the life and achievements of Chicago Bear Hall of Fame running back Walter Payton through photographs and stories submitted by professional sports photographers from around the county. The resulting images stand as a visual testament to the great skill, driving passion, and sweet nature of Payton, as well as to the art of sports photography.
All photographers and newspapers donated their images to the exhibition. Thanks to the NFL, the Chicago Bears, the Sporting News, the Chicago Sun-Times, the Chicago Tribune, the Daily Herald, the News-Sun, and the Clarion Ledger and especially to the photographers for their help in celebrating the life of Walter Payton.
The exhibition opens Sunday, October 1 and runs through the month of October. Visitors are welcome to explore the exhibit at their leisure, during regular library hours, Monday – Thursday 9am-9pm; Friday 9am – 6pm; Saturday 9am – 5pm; Sunday 1-5pm.
A Picture Is Worth A Thousand Yards: Sports Photography of Walter Payton was developed by the Dunn Museum. Visit www.dunnmuseum.org.
Lake Villa District Library enriches life by connecting people to resources, services, spaces and each other. 
Photo credit: Dunn Museum/Walter Payton by Rich Pilling
For more information contact:
Nina Kenney
Head of Communications
847.245.5102